In converting an old tool shed to glow-in-the-dark exhibit space, we designed a low-budget, immersive space that brings a feeling of magic and wonder to soil. The crafty DIY look of the space intrigued and surprised visitors who were not expecting to be engaged by the topic of soil.

The experience makes a meaningful connection to history when visitors travel to 1770 with their new-found knowledge about how to save the soil from degradation before it's too late. What they discover is that even the first colonial settlers had a similar mind-set that many Americans have today - that this country's resources will never be depleted. Are we destined to destroy this vibrant network of ecosystems beneath our feet?
(Accokeek Foundation 2016)
LEARN MORE . . .
History + Environmental Science = Adventure!
2016 Winner "Innovation in Museum Education" Award from AAM (American Alliance of Museums).
Students travel to 1770 in search of modern items left by an organization whose mission to "save historical people from their primitive lives." The problem is that these innovations can set in motion a chain of events that will damage the environment for us today. The Eco-Explorers must find these items and weigh their assets with their environmental impact. Which modern inventions are worth their environmental impact? The decisions are not easy. And along the way they meet characters who challenge their viewpoints.
(Accokeek Foundation, 2014)
LEARN MORE . . .
You're the DJ: Hip Hop, Sampling, and Breaking the Law
This interactive kiosk, about the birth of Hip Hop in Bronx, New York in the 1970s, was designed for use in the Smithsonian National Museum of American History. As early Hip Hop DJs began the practice of using samples of existing copyrighted songs, a legal question arose.
When is a song original? Artists have been inspired by the work of other artists for thousands of years, but when does inspiration cross the legal line? As content developer, I distilled the research into this main idea and designed an experience in which visitors can explore the gray area of copyright infringement by creating their own songs from provided samples. Additionally, they can choose to play a second game in which they play the role of a copyright judge deciding a case.

Participants also come to understand that many classic Hip Hop songs were created in an earlier era before copyright law was enforced so strictly. This begs a question that connects past to present: is strict enforcement hampering creativity and innovation Hip Hop today?
(Smithsonian National Museum of American History, 2015)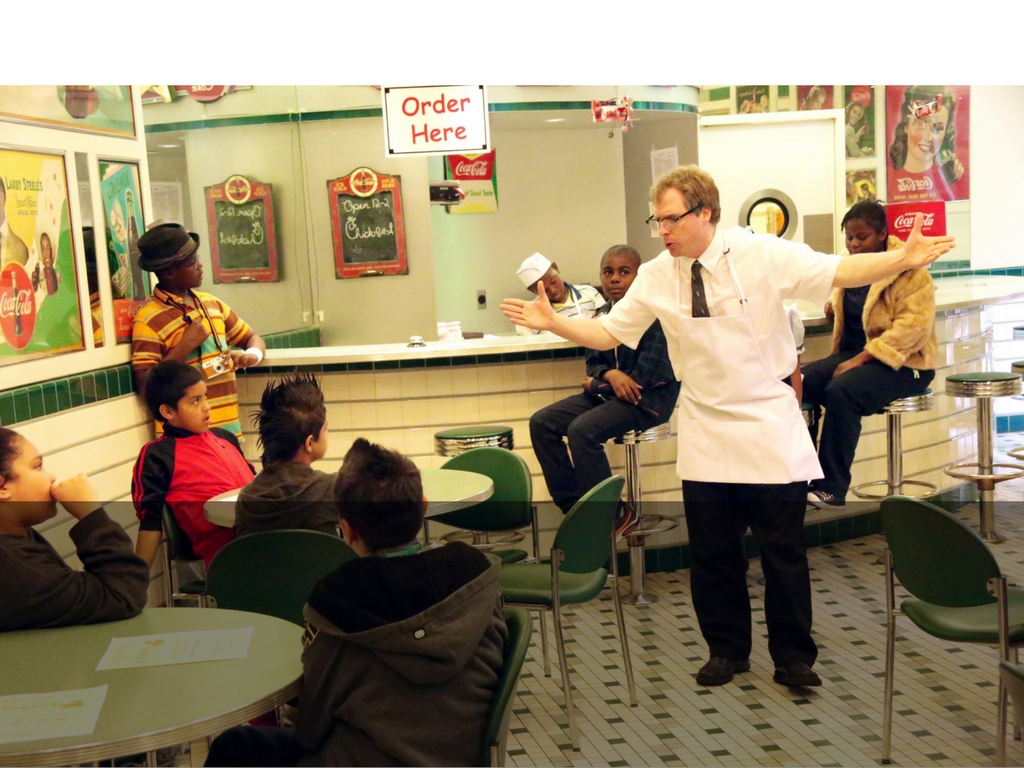 Fight For Your Rights
This school program is more than an explanation of past events; the participatory format empowers students with skills they can use to create the change they hope to see in today's world. Students are first asked "Do you have what it takes to be a Freedom Fighter?" Then, in a series of three Civil Rights Era simulations, their suppositions are put to the test. Focusing on how social change happens and the role of the common citizen in taking action, the program places students in challenging situations: facing an angry mob during the first Freedom Ride in 1961, confronting an angry restaurant owner at a sit-in, and registering to vote in 1946 (a time when few African Americans voted). By the end students not only have a more complex understanding of the early Civil Rights Movement in the South, but they also learn something about themselves.
Read more about the program in this chapter from Interpreting African American History at Museums and Historic Sites.
(Atlanta History Center 2013)
Strawberry Jam
Self guided role-playing don't always require a big budget or high-tech solutions. Strawberry Jam required an investment of less than $200 in materials.
Part of an 8-week interpretive theme drawing awareness to the problem of food waste, visitors each play the role of a lone strawberry in a quest to avoid the "trash can of death" while saving natural resources. This low-cost, high-impact game makes problems in our food system visible by using a fun, interactive format.

The game also serves as a way-finding system, leading visitors to the colonial farm where they learn the forgotten skills of food preservation. The emphasis is on creating past-to-present connections, teaching relevant skills to tackle environmental problems, and making our vast food system visible in a personal way.
(Accokeek Foundation 2016)